Valuable Items Insurance Made Easy
Servicing Arizona & California Communities Since 2001
Valuable Items Insurance is easy with Jim's help!
If it's valuable, we can insure it
So what is Valuable Items Insurance coverage?
Great question!  Valuable items include anything of value, such as jewelry, coin collections, firearm collections, art, musical instruments, antiques, collectible cards, comics, and many more.  If you can collect and it has value, and you want to insure it, we can usually find a market for you.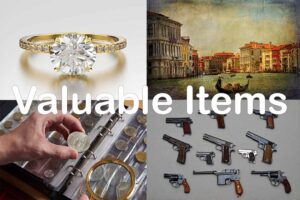 Your value items may be some of your most significant assets, and ensuring you have the proper protection in case of a covered loss like theft, fire, or mysterious disappearance is essential. Many valuable items can be insured on a standard homeowner's or renter's insurance policy. Still, once you start insuring multiple items or a collection, you are more likely to research a valuable items policy. These policies are more comprehensive and have specialized coverage options related to the category of the item or collection you are insuring. For example, a jewelry policy may include in-the-value and out-of-value coverage options.
We understand insurance can be confusing, which is why we do not just sell you a policy; we ask questions, listen, educate and provide options that make sense. We work with you to design your valuable items insurance policy, then shop it with all our companies to get you the best price!
Agreed Value, State Value, Market Value
Mysterious Disappearance
Theft
In/Out Vault Coverage
Policies tailored to clients
Museum on loan coverage
Ready to experience insurance at the next level?