Classic Car Insurance Made Easy
Servicing Arizona & California Communities Since 2001
Classic Car Insurance is easy with Jim's help!
Every car is unique, and we have contracts with most classic car insurance companies like Hagerty, JCTalyor, Grundy, American Reliable, Condon Skelly, and many more.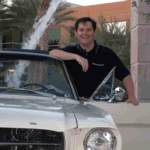 Your classic car may be one of your most significant assets, and ensuring you have the proper protection in the event of a covered loss like an accident, theft, fire, vandalism, or flood is essential to protecting all your assets. Liability coverage is your best friend, and classic car insurance companies offer it to protect you if you cause an accident and there are injuries or property damage. Regarding traditional car companies, each is unique in their approach to the coverages they offer, underwriting rules, and how they rate their policies. That is where our years of experience in the classic car insurance market pay off.
We understand insurance can be confusing, which is why we do not just sell you a policy; we ask questions, listen, educate and provide options that make sense. We work with you to design your classic car insurance policy, then shop it with all our traditional car insurance companies to get you the best price!
Agreed Value Settlement – No Depreciation
Specialized Claims Handling By Experts
Right Replacement Parts When Available
Enhanced Roadside Assistance
Markets all years, make and models of Classic Car, Hotrods, and Customized Vehicles
Car. Collections – No Problem
We Offer Hagerty, JCTaylor, Grundy, American Modern, Condon & Skelly, Chubb, standard auto carriers, and many more.
* Understand the difference between Stated Value and Agreed Value before you buy your classic car policy – You may be surprised! 🙂
Ready to experience insurance at the next level?